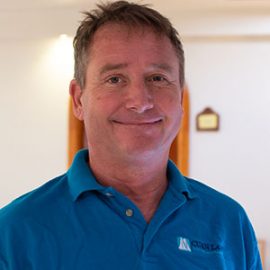 Scott
Captain
Captain Scott over many years has done everything and every job on the Cuan Law except Chef. We owe him a huge dept of gratitude as he has been the foundation stone of the crew. He has trained up dozens of our crew over the years. Scott started off as steward on board and then, after getting his Divemaster rating, he led many dives in addition to his work as steward. Scott still loves to dive and will certainly do some dives with you whilst on board. He then moved on to Engineer as he had always had a great interest in, and aptitude for, the ship's machinery and equipment. He has fixed numerous problems, installed much new equipment and machinery and done many upgrades. He still likes to mess around below decks playing with machines! After a few years as Engineer and then First Mate, we promoted him to Captain and added the job later of Captain Trainer. Scott has done many, many charters as Captain, has as much knowledge as Owner Duncan, and really understands "The Cuan Law Way". He has a great sense of humor and is very fun-loving, and he runs a well organized and motivated team. A few years ago he married our then Chef, Kellie, whom many of our past guests will remember and future guests will get to meet as she is now back on board. Scott's sister, Kim, is our Operations Manager.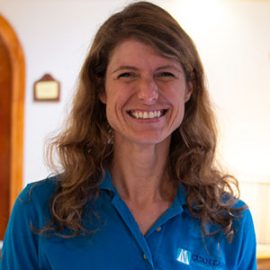 Kellie
Chef
Kellie Moore is a Central Florida native who came to the BVI several years ago originally through her love of ceramic art. She ran a local Tortola pottery and while here met our Captain, Scott Ferris. The rest, as they say, is history as they are now married! Her love of food and the ocean led to the obvious choice of a second career on board the Cuan Law as Chef with us and we are thrilled that she has also become a part of the Scott and Kellie crew training team. Fortunately their schedule means that Kellie is still able to spend some limited time with her amazing pottery business in Florida (www.sugarsandpottery.com).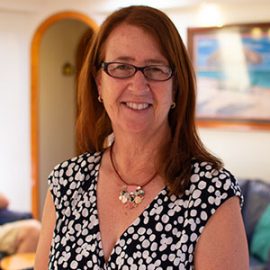 Kim
Operations Manager
A few years after graduating from college when she decided to take some time to start traveling Kim first joined Trimarine the same year that Cuan Law was completed - 1988! She worked on board Lammer Law initially as stewardess and then worked on Cuan Law as relief chef on and off for several years interspersed with some great trips including 3 years in Japan, before making the BVI her permanent home in 1994. Her BVI adventures include working with small businesses, building a vacation villa and running the guest house style villa Annie & Duncan Muirhead owned, Serendipity House, until its sale in 2014. Her move to the Trimarine office in 2000 started off as a part time thing, but as time has passed and most recently with the impact of Hurricanes Irma and Maria in September 2017 Kim has taken on more responsibility. It is most likely that you'll reach her when you email or call us!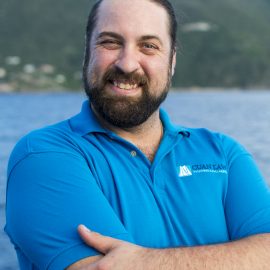 Patrick
Chef
Patrick was born and raised near Columbia, Missouri. At 19 years old he moved to Chicago to attend Le Cordon Bleu culinary school. He worked at NAHA, a Michelin Star rated restaurant for three years under the fabulous chef Carrie Nahabedian. Patrick then moved to Portland, Oregon where he took on the Executive chef position at a popular fine dining restaurant called OLEA. After spending a season as the chef of Lake Lodge in Yellowstone National Park, Patrick made his way back east to try his hand in the food truck business. He has a wide variety of restaurant, hotel and catering experience. Being on the water has always been one of his many passions. Naturally, because of his dislike of cold weather, he moved to St. John, USVI in 2014 to be closer to his parents who retired there. After four years as Chef de Cuisine at La Tapa on St. John he decided to fulfill a life long goal by taking to the sea. He is proud to be a part of the Cuan Law family and is excited to prepare world class culinary delights for all of its charter guests.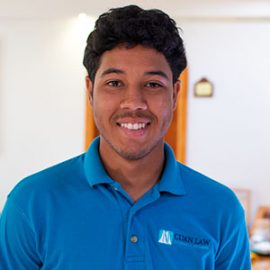 Ariel
Engineer
Ariel was born and raised on Tortola and moved to Thailand at the age of 12. Ariel joined us on board the Cuan Law shortly after he returned to the BVI's in 2017 as steward and is currently very excited as he has decided to embark on training to become our engineer. Already - in just his first year year spent with us on the Cuan Law - Ariel has become a Certified diver and is working on getting his Dive Master. He's also gained experience with cooking which occasionally helps remind him of his years in Thailand as he still spends some of his time in the galley. In his free time he enjoys skateboarding, surfing and being out on the water with friends. With his deep love for music he also owns a guitar that, unsurprisingly he doesn't have time to play!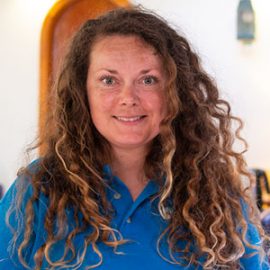 Reka
Dive Instructor
Reka Lukacs is a Hungarian girl from Transylvania, Romania who joined the Cuan Law early in 2018. She began her travels as an au pair in England where she learned English and ever since she got comfortable speaking it she just can't stop traveling! She lived in Mexico where she was mesmerized by the beauty and magic of the underwater world so she became a diver. After that she continued her journey to Thailand where she spent a lot of time guiding the shark watch trips and got passionate about underwater photography. She got to experience a bit of Australia as well before riding the waves on a rigid inflatable boat to the dive sites of Mozambique. She already enjoys the shore hike/walks around the smaller islands of the BVI and exploring the big rocks at The Baths on Virgin Gorda. She is a fun loving, talkative girl who is all smiles and laughs and ready for games at any time :)