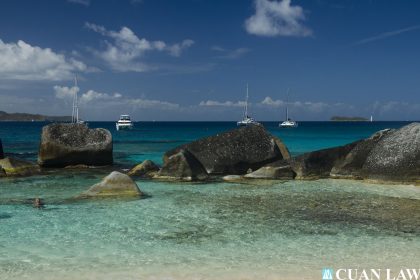 What a great trip! We chartered Cuan Law, a motor sailing trimaran, for our annual trip for a group of 20 divers. The 10 cabins grouped around the salon are spacious, each with private bath. The entire crew was super, so customer oriented! Capt. Jamie scheduled 4 dives per day for us and with help form Dive Instructor Chris and Dive Master Travis they did not repeat dive sites and sought out the best times and conditions to put us in the water. The diving was diverse – reefs, ship wrecks, even an airplane wreck all with healthy coral and fish populations.
Chef Sue created amazing food and managed everyone's special dietary requests with ease. Engineer Jesse kept all systems on the boat going. All of the friendly & happy crew bent over backward to accommodate our requests. Besides diving we enjoyed visits to Salt Island and the Baths at Virgin Gorda.
We highly recommend Cuan Law, it was a great vacation!
Read full review here.