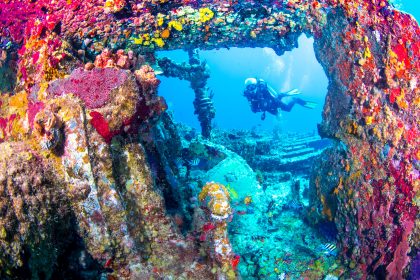 Tis the seasons to start planning your Christmas holiday sailing vacation in the British Virgin Islands! Trade in your boots and snow for flip flops and white sand beaches this winter with a week on Cuan Law. We all now how quickly the holidays arrive and now is the best time to get your vacation plans sorted. You can save on flights and rest easy knowing your escape to the BVI is settled before summer starts.
The BVI features beautiful weather all year long, especially in December with average temperatures around 80 degrees. Along with blue skies the water is especially clear which is the perfect setting to discover the best dive sites in the Caribbean. Guests not interested in diving can spend the day snorkeling, kayaking and stand up paddle boarding in the calm waters around Cuan Law.
We love island excursions as much as diving and our guests wake up to a new island everyday. Bring your favorite hat and sunglasses for an afternoon hiking the world famous Baths in Virgin Gorda. Then cool off with a swim around Spring Bay before we sit down for a fun beach front BBQ served by our friendly staff. There is always time to explore a new beach or hiking path, don't forget to bring your camera!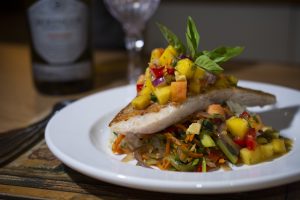 Everyone indulges a bit on vacation and with Cuan Law all of your food and drink are included. Right after sunrise our chefs are busy in the kitchen preparing for a buffet breakfast. Lunch is also a buffet served around noon featuring the likes of fresh baked pizza, taco day, fresh salads, BBQ, and local seafood. A recent review on TripAdvisor boasts "The meals were always exceptional as Chef Kellie deftly accommodated our low carb and high protein requests. And Exceptional is an understatement. REALLY excellent and unique provision! We had a Filet that was better than any steak I have had in Texas!".
Trying to find the perfect holiday gift for your family can be daunting, but rest assured a sailing on Cuan Law in the British Virgin Islands will create memories to last a lifetime. Family and friends of all ages will cherish the time spent together exploring the BVI.