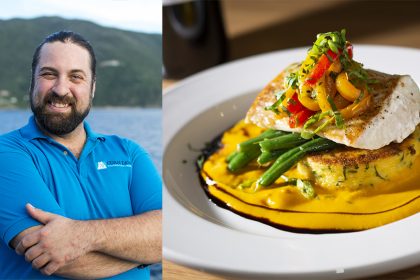 We are delighted to welcome aboard our new chef! Get to know a little bit more about Chef Patrick Wilson.
Welcome to Cuan Law! Can you tell us a little about yourself and what brought you to be our new chef?
Well, I went to culinary school in Chicago in 2003. Back then I very distinctly remember setting a goal that some day I was to be the chef on a large ship in the Caribbean. I've spent the last 15 years of my professional career working toward that goal. I have traveled all over and have eaten at some of the best restaurants on the planet. I've been fortunate enough to work at some very reputable fine dining establishments and collected knowledge from many well known and respected chefs. I am extremely excited to bring this knowledge to the guests of Cuan Law and look forward to providing a level of cuisine only found on the highest end of live aboard charters.
What is your favorite thing so far about working on a boat?
I love the water! I want to be on the water. I want to be in the water. Food and water are the essentials of life. I have a profound respect for both. SCUBA is my favorite water activity. I love that I am able to enjoy doing this with the guests a few times a week!
If you had to choose a song that mirrors your cooking style what would it be?
Love & Happiness by Al Green
When you love the food that you create and love what you do, I believe the food tastes better. Happiness is most important. If you aren't happy, find the thing that makes you happy. Life is too short to not have love & happiness. I feel fortunate to have both.
Tell us some of your favorite ingredients and how you can use those on charter?
Chili peppers! With a passion! Specifically the West Indian habanero pepper. I fully understand that not everybody is crazy about spicy food. I myself love it, but when it comes to cooking for the general public I have a way of incorporating such a small amount of heat that it's almost completely undetectable. I dislike flat food. Food, like wine should have layers. When I taste the food that I make I look for at least three to four layers of flavor. They are to be balanced in a way where not one is overpowering, but rather can be tasted and enjoyed individually.
Other favorite ingredients that add complexity to the food I create include but are not limited too:
Fish sauce, Gochujang paste, Garlic, Ginger, all curries and Bacon – because – BACON!
We have seen you scuba diving between meals, which dive is your favorite so far?
Wow. That's a tough one. There are so many great dives in the BVI. I would say the dive I like the most is the one I haven't done yet. Ha, but for real, The Rhone is really cool!
If you had just one cocktail to share with a guest which would it be?
I'm going to be boring with this one. I love a vodka soda with two limes. It's clean, it's refreshing and it's water! Also I don't share my cocktails, it's MY cocktail! I'd be happy to make a painkiller for a guest though. They are the perfect island cocktail, but too much sugar for me.
Recent review from TripAdvisor! "A huge shout out to Chef Patrick who provided the most amazing meals everyday – better than any five star restaurants I've been to!" Read full review here.
Check out some photos of Chef Patrick's food from charter!
[Best_Wordpress_Gallery id="6″ gal_title="Chef Patrick"]