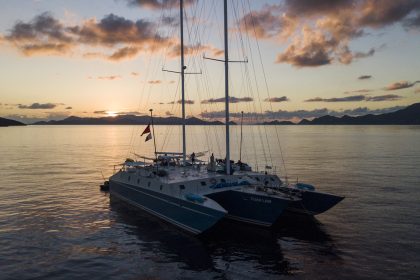 You've tied the knot, cut the cake and posed for the photos, now your'e ready for a BVI sailing vacation! Begin your adventure in Tortola by boarding our 105 foot trimaran where our friendly crew will greet you with cocktails and an exciting BVI sailing itinerary.
Island Excursions
Your all inclusive sailing charter in the BVI starts with Cuan Law, here are a few highlights you can expect from the trip.
Norman Island – A quick sail over to Norman Island passing the Indians and anchoring near the Caves for a few hours of snorkeling and diving. The views for dinner are truly break taking with the sunset dipping over St. John from the aft deck. Guests love to explore the caves at Treasure Point, an emerald green lagoon that inspired Robert Louis Stevenson's Treasure Island.
Virgin Gorda – Spend the afternoon hiking down to explore the Baths through magnificent natural boulder fields. Cool off a bit with a swim around Devil's Bay before heading over to Spring Bay for our beach bbq. Our staff provides a fun beach front bbq with cold drinks, grilled burger and hot dogs, fruits, salads, desserts and more.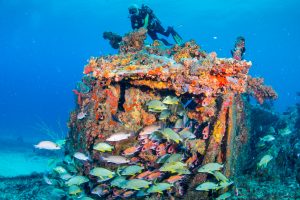 Diving
Pristine turquoise waters, balmy air temperatures year-round and unforgettable underwater scenery no matter where you dive keeps the adrenaline pumping for everyone from novice snorkelers to experienced scuba divers. Among the talented crew are two Scuba Instructors and additional Dive Masters. You can take a short Introduction to Scuba course if you are a beginner in a very 'no Pressure' environment.
Relaxation
Spa Services – Enjoy a spa day during your sail at Ixora Spa at Scrub Island Resort. Ixora Spa is a requisite for sailing enthusiasts seeking a true experience that embraces its cliff-side sense of place. Ixora Spa skillfully blends the healing powers of Ayurveda in a variety of wellness treatments that will leave your mind peaceful, muscles relaxed and skin beautiful. (Inquire about availability when booking.)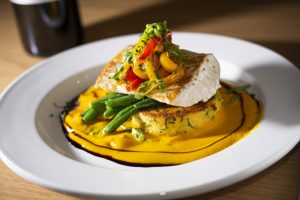 Dining on Cuan Law
Breakfast on Cuan Law – What an amazing start to the day! From French toast to Eggs Benedict to Blueberry Pancakes to Farmhouse scrambled eggs, you can be sure that our Chef will help you to prepare for another fun day on the water. For the early risers our Continental treats are available from around 6.30am, but you are on vacation, so there is a more relaxed start for those who prefer to snooze as our pipping hot daily special's are served at around 8.00am.
Lunch on Cuan Law – The casual fun of our buffet lunch served on the aft deck can't be beat. You'll enjoy homemade pizza's, Mexican feasts, fresh zesty salads, and of course our signature cookies and cakes. All of this and the every changing views as each day you'll be at a new anchorage off any one of the stunning cays and coves making up the beautiful British Virgin Islands.
Dinner on Cuan Law – Dinner is a classic sit-down event and is the culinary highlight of the day. A savory blend of cosmopolitan cuisine and Caribbean fare are complimented by a broad selection of fine wines. A week of dining on the Cuan Law is a truly memorable experience.
While a Cuan Law trip always aims for guests to enjoy a casual and relaxed break, our lovely dinners do have a more formal feel. Think beach-chic restaurant dining, perhaps in Miami and you'll have an idea of the ambiance and the quality of this evening experience. We offer a wide selection of the best fresh produce available and we also do our best to tailor menus if your group has any specific requests. Our Chef delights in helping you with those Special Celebrations too so please be sure to let us know about birthdays and anniversaries!
"The Cuan Law is a trimaran sailing vessel specifically designed and built for the ultimate diving experience. Luxury accommodations, delicious food, and a terrific captain and crew make this cruise a top notch dive adventure The sensational diving is complimented by onshore adventures. The perfect combination of relaxing and exciting." – Via mccachrenjm on TripAdvisor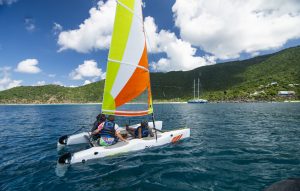 Your Adventure Starts Here
Imagine waking up every morning to an ever-changing landscape of white sand beaches and emerald seas. Relax with a glass of wine and dine on a wide variety of delicious bites from our culinary team. We would be thrilled to welcome you on board for your honeymoon in the British Virgin Islands. Call or email to book today!