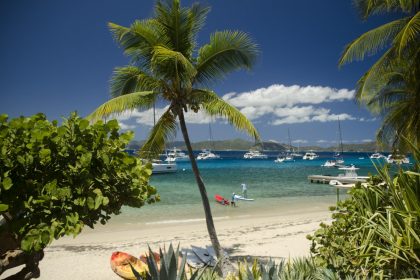 Island Excursion: Cooper Island, BVI
Top three: The Rum Bar, Snorkeling, Dive Sites
The Rum Bar
Guests aboard Cuan Law are welcome to venture to shore via kayak or dinghy to sample aged rums from all over the Caribbean. Order a sampler board and the knowledgeable and friendly bartender JJ will explain the history, recipes, and origins of the rums.
It's also worth a trip to grab a coffee from Virgin Islands Roasters next door at the Coffee Shop. A full range of gourmet delights are on offer such as espresso, smoothies, gelato, pastries and salads, and our favorite…chocolate fudge! (Free WIFI)
Snorkeling
Machioneel Bay, Cooper Island is world renowned for white sand beaches and crystal clear waters. Cuan Law guests can explore the waters by kayak or hobie cat. Enjoy the snorkeling at Cistern Point – keep an eye out for turtles, eagle rays, tarpon, angel fish, and schools of squid.
Diving
The beautiful waters surrounding Cooper Island offer a variety of different dive experiences.The famous RMS Rhone, a British steamship, which foundered on Black Rock Point and is known as one of the world's top dive sites.
Cooper Island Photos