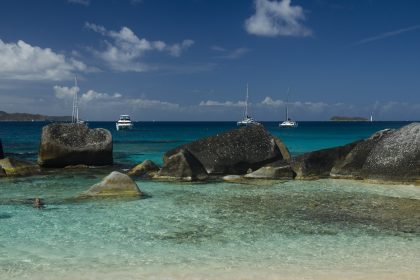 I went as a single female diver on the Cuan Law Live-aboard in April and met a great group of divers from Canada.
The boat is very beautiful inside with a comfy salon and little bar area. The deck is very spacious for hanging out and diving. We also ate all our meals under the canopy on the deck, which was nice and breezy. The boat is super clean an tidy. There are 10 cabins, to accommodate 20 people. The rooms are cute, functional and have several port holes which open for ventilation. There is also AC, although not super cold, was good enough for me. There was plenty of storage space.
The crew is amazing, always there to accommodate your every request. Thank you to Simeon, Captain Scott, Chris, Ariel, Alayna, Reka and the best chef ever, Kelly. They were so friendly and helpful. Their team is extremely well organized. They really work their butts off to insure that you have the best trip possible!
Breakfast and lunch were served buffet style with the most amazing, fresh dishes with many choices. Kelly uses organic vegetables and herbs to prepare creative menus. You can tell she is very proud of her work and everything is spectacularly presented. Dinner is served, rather than buffet style. Three nights we had yummy fish dishes and homemade desserts, such as cheesecake and Key Lime pie. If you don't like certain foods they will make you something special. The barbecue on the beach was also fantastic and included hamburgers, hotdogs, fresh fruit, corn on the cob, pasta salad and lots of cold beers. LOVED IT! Such hard work for the crew and Kelly!
The bar has a great selection of alcohol and the drinks are not only free but plentiful. The crew often with whips up special concoctions, such as "painkillers".
The diving was nice, typical of the Caribbean. My favorite was the wreck of the Rhone. The crew handles all diving aspects in a very organized and safe manner. You either do a giant stride or in some cases, take the zodiacs. They always tried to get us to the absolute best dive sites, which included a number of wrecks. A special thanks goes Simeon, for being my "dive buddy" most of the time.
It was nice to have three excursions, one to the famous "Baths" on Virgin Gorda , a walk on Salt Cay, and a trip to Cooper island (I think).
Overall, this was a wonderful trip and I really appreciate the service from the team of the Cuan Law. Thank you very much for a memorable vacation!
https://www.tripadvisor.com/ShowUserReviews-g147355-d11760548-r571712791-Cuan_Law-Road_Town_Tortola_British_Virgin_Islands.html